Come to West Liberty, Iowa for the Great Plains Puppet Train, Sept. 13-16, 2018! See the full schedule on the performance page and the workshop selections and times on the workshop page!
Newsflash! It wouldn't be a puppet festival without a Slam or a Potpourri! Call it what you will, we're having one, and the inimitable Peter Allen is in charge! He's taking 10 acts, 5 minutes each, on a first come basis, so tell us what you've got: title, type of puppet, etc. Hurry and email festival@Lcom.net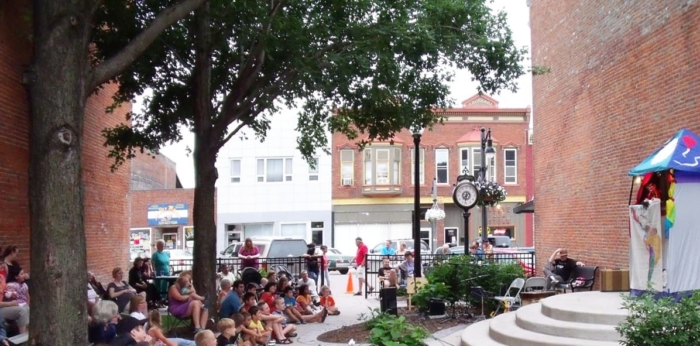 Located close to Iowa City, home of the University of Iowa and the internationally renowned Iowa Writers' Workshop, West Liberty is an iconic small town, with an active main street and midwestern hospitality. The Regional Festival will take place in various buildings downtown, all within a distance of about four to six blocks, including Owl Glass Puppetry Center, the New Strand Theatre (a 1910 opera house), the historic depot, and one or more churches.
The Festival will start Thursday evening with registration, finger foods, a show, and a party featuring Quintron and Miss Pussycat. Friday will include workshops, performances in our opera house, and a Puppet Slam. Saturday will feature the West Liberty Children's Festival, complete with five puppet performances and lots of street food and activities, A street dance with a Mariachi Band, and finally a delicious catered dinner and another performance. Sunday: breakfast, one last show, and farewells to friends, old and new!
Festival Staff:
Monica Leo, Festival Director
Cara Calvin McFerren, Assistant Director
Pam Corcoran, Artistic Director
Dan (Digger) Romano, Workshop Director
Gary Neil Holmquist, Technical Director
Linley Heath & Anna Hanson, Puppetry Store
Michelle O'Donnell Gulick, Festival Exhibit
Justin Cornett, General Assistant