You want to know what's going to happen, where, and when!
The Schedule Is Coming Together! 
Visit the Workshop & Performance pages for further details!
Thursday:
3:00 PM: Registration opens at Owl Glass Puppetry Center, 319 N. Calhoun St, West Liberty
4:00 PM: a Toy Theatre/Tunnel/Pop-Up Workshop, with Seth Eberle (open to our local community as well as all of you)
5:00-7:00 PM: Pizza, fruits, veggies, and socializing.
7:00 PM: Meet Our Mentors: Art Grueneberger interviews Jim "Nappy" Napolitano. Live stream to the rest of the puppetry world.
8:00 PM: Down the Rabbit Hole, by Aretta  Baumgartner and Thom Stanley     
Friday:
8:30-9:45: Workshop I                                                           
            10:00-11:00 A.M:  The Three Little Pigs, by Art Grueneberger                                
11:10-12:25: Workshop II                                                      
            12:25-1:15:  Lunch                                                                
            1:15-2:00:  How to Snag a Sea Monster, by Mike Horner of Mesner Puppets                                                          
2:15-3:30:  Workshop III                                                                                          
3:45-5:00:  Workshop IV                                                                    
            5:30-7:00: Dinner                                                                               
            7:00: Tears By the River, by Krystal Puppet Theatre from Kenya   
            8:45: Puppet Slam (Emcee Peter Allen)                                                            
Saturday:
            10:00-3:00: Children's Festival                                                                      
                        10:15: The Emperor's Nightingale, Stephanie Vallez of Eulenspiegel
                        11:00: Magnificent Monster Circus, Cactushead Puppets
                        12:00: Little Red Riding Hood, Puppetfolk Productions
                        1:00: Puss-in-Boots, David Hanzal and Leif Jurgensen
                        2:00: Sing-A-Long with Nappy's Puppets
            Lunch on your own (lots of street food available!)
            3:30-6:00: (actually 3:00-10:00): Latino Bands on the street
            5:15: Regional meeting (Great Plains Region of Puppeteers of America)
            6:00-7:30:  Dinner   
            7:30: Ice Cream Social (locally made ice cream from Acapulco Bakery) and memorial slide show of people our region has lost since 2018. 
            8:00:  The Box King, by Seth Eberle, performed by Seth with Kallie Melvin                         
            9:00:  More music on the street
Sunday:
            8:00-10:00: Farewells & morning snack by Gala Tortillas                           
            11:00: Spas, The Tiger Cub, Puppet Art Ltd (Bulgaria)                                                 
Looking forward to seeing you, one and all!
Monica Leo, Festival Director
Pamela Corcoran, Artistic Director
Dan (Digger) Romano, Workshop Director
Come to West Liberty, Iowa for the Great Plains Puppet Train 
Sept. 8-11, 2022!  
Located close to Iowa City, home of the University of Iowa and the internationally renowned Iowa Writers' Workshop, West Liberty is an iconic small town, with an active main street and warm hospitality.  The Regional Festival will take place in various buildings downtown, all within a distance of about four to six blocks, starting Thursday evening with registration, finger foods, a show, and a party.  Friday will include workshops, performances in our opera house, and a Puppet Slam.  Saturday will feature the West Liberty Children's Festival, complete with five puppet performances and lots of street food and activities, A street dance with Latino bands, and finally a delicious catered dinner and an evening performance.  Sunday: breakfast, one last show, and farewells to friends, old and new!
We'll have the following kinds of shows:
Family friendly shows outdoors during the West Liberty Children's Festival

School shows that connect to the curriculum

International shows, slam pieces, etc.                                                                                                     
 And workshops:
Shadow puppets

Marionettes

Giant puppets

Business workshops to help puppeteers make a living in the current economy

Advocacy through puppets

And more!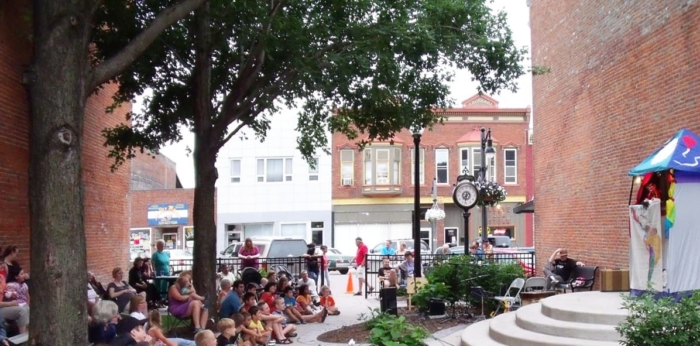 FESTIVAL STAFF:
Monica Leo, Festival Director
Stephanie Vallez, Assistant Director
Pam Corcoran, Artistic Director
Dan (Digger) Romano, Workshop Director
Gary Neil Holmquist, Technical Director
Christopher Eck, Festival Registrar
Festival Exhibit: Michelle O'Donnell and Kallie Melvin