FEATURING
---
THURSDAY 09/08 – 8:00 PM at NEW STRAND THEATRE
Shadow Realm: Down the Rabbit Hole
ONE DOUBLE-O FOUR EIGHT  (Aretta Baumgartner & Thom Stanley)
 Welcome to the mysterious place that exists between asleep and awake, between darkness and light. Join our Alice as she tumbles through space and time, through lucidity and madness – as she struggles to find her footing. This shadow theatre piece features large-scale shadow puppets, projections, human silhouettes and an immersive soundscape that explores a sometimes silly, frequently bitter, often touching human journey. Adventure awaits…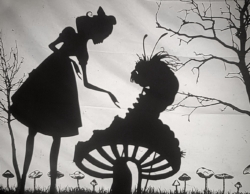 ---
FRIDAY 09/09 – 10:00 AM at NEW STRAND THEATRE
The Three Little Pigs
Art Grueneberger
The Three Little Pigs Three Pigs strike out on their own looking to have fun and adventures. But first, they must build houses for themselves. Straw, sticks, bricks and a huffing, puffing Big Bad Wolf add up to hilarity and mayhem in this adaptation of the classic story "The Three Little Pigs." A combination of live puppetry with simple animations and digital graphics make for an engaging virtual experience.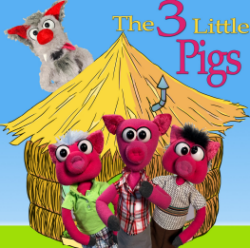 ---
FRIDAY 09/09 – 1:15 PM at NEW STRAND THEATRE
How to Snag A Sea Monster
Mike Horner of Mesner Puppets
When a seaweed-covered creature washes ashore in the Cape Cod  village of Barnacle Bay, the inhabitants fear the worst. Is it a sea monster in their midst? No, it's a baby as big as a house! The villagers adopt the giant baby, whom they name Stormalong…or Stormy for short. Growing over 24 feet tall, Stormy struggles to fit in and chooses a life aboard a merchant ship to find his place in the world. Meanwhile, a REAL sea monster torments the villagers and only Stormy is big enough to save them all!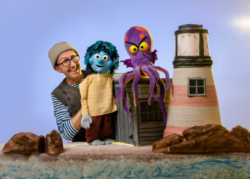 ---
FRIDAY 09/09 – 7:00 PM at NEW STRAND THEATRE
Tears By The River
Krystal Puppet Theatre (Kenya)
Enjoy this musical folktale about courage in relation to the modernday themes of migration. Traditional theater in Kenya uses masks, drums, chants and narratives. The Giriama people of the east coast of Kenya often perform with
gigantic wooden figures. Turkanas, Maasai and Kamba tribes use fertility clay and wooden dolls called ikideet or gnide dressed in leather and decorated with colouredglass beads and costume jewelry. All of these elements can be found in Tears by the River, a contemporary puppet theater show that unfolds through images, sound, and movement. Celebrating the oral traditions of Africa, these traditional stories are meant to prepare young people for life, so each story teaches a lesson or a moral.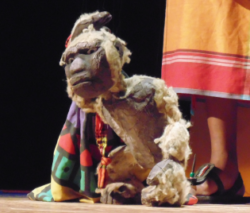 ---
SATURDAY 09/10 – 10:15 AM at Ron-De-Voo Park (Children's Festival)
The Emperor's Nightingale
Stephanie Vallez of Eulenspiegel Puppet Theatre Company
Based on a tale by Hans Christian Andersen,  The Emperor's Nightingale is performed using Bohemianstyle rod marionettes on a tabletop stage. The show tells the story of an emperor who loves nature, especially birds and most especially the nightingale. Like many of us, he is distracted by a mechanical device, in this case, a wind-up nightingale toy. He stops going outside and exercising and becomes deathly ill. He only wants to play with his new
toy. Stephanie sings the introduction. Her clarinet is the voice of the nightingale, while her penny whistle voices the toy nightingale.
---
SATURDAY 09/10 – 11:00 AM at Ron-De-Voo Park (Children's Festival)
Magnificent Monster Circus
Cactushead Puppets
Come one, come all, to a circus like no other!
Encounter magnificent creatures from the wilds of your imagination as their quirky human caretaker tries to teach them new tricks. Kids can lend a hand to Eustice the Unicycling Unimonster, makefriends with a Fiery Fanged Worm, cheer for Agnes the many-legged Acropod, and more! This colorful, silly, multi-sensory show full of friendly monsters is perfect match for young audiences.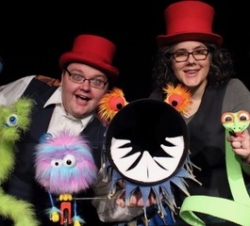 ---
SATURDAY 09/10 – 12:00 PM at Ron-De-Voo Park (Children's Festival)
Little Red Riding Hood
Anne Newman of Puppetfolk Productions
This is a fast and funny rendition of the beloved tale, Little Red Riding Hood. Traditional hand puppets bring the familiar tale to life with an original script, suitable for all ages.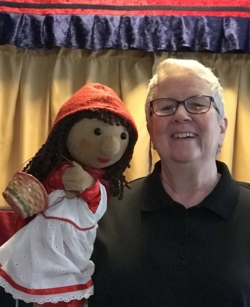 ---
SATURDAY 09/10 – 1:00 PM at Ron-De-Voo Park (Children's Festival)
Puss-in-Boots
David Hanzal and Leif Jurgensen
Adapted from the classic fairy tale, "Puss-in-Boots" is about a trickster cat who uses her wits to outsmart a simple king and a wicked ogre. Our production of "Puss-in-Boots" is performed in a miniature proscenium toy theatre with 12" rod marionette puppets.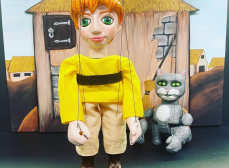 ---
SATURDAY 09/10 – 2:00 PM at Ron-De-Voo Park (Children's Festival)
Sing Along with Nappy's Puppets
Jim Napolitano
How many of these songs do you know:
Little Bunny Foo-Foo?
Five Little Ducks?
The Old Lady Who Swallowed a Fly?
Five Little Monkeys Jumpin' on the Bed?
Join in the fun as Jim Napolitano of Nappy's Puppets presents some of the silliest sing-a-long songs know to mankind.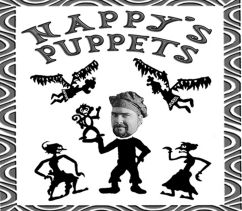 ---
SATURDAY 09/10 – 8:00 PM at The United Methodist Church
The Box King
by Seth Eberle, performed by Seth Eberle with Kallie Melvin
Told with hand carved marionettes and a transforming cardboard box, The Box King is a family show following two kingdoms. One with a queen and a kingdom that is clean and very well organized. One with a king and a kingdom that is incredibly forgetful but full of the happiest people you will ever meet. These two kingdoms are joined together through the marriage of their leaders. But, what happens when the king loses the queen and cannot remember who anyone is any longer? Is putting everything and everyone into boxes the way to keep things organized, or is there more to an organized kingdom?
The Box King was supported by a family grant from the Jim Henson Foundation.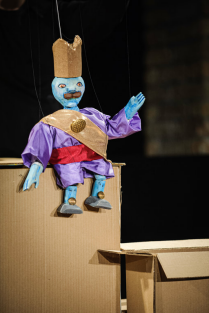 ---
SUNDAY 09/11 – 11:00 AM at New Strand Theatre
Spas, The Tiger Cub
Puppet Art Ltd (Bulgaria)
A tale for kids – big and small
Jokes, wisdoms – it has it all
Two clowns with their rhymes and tunes
Will take you to a forest made of balloons
A funny tale about the adventures of a tiger cub called Spas and his meetings with different, strange characters. He makes plenty of new friends, learns many lessons, goes through many difficulties, and realizes that respect and  kindness must be deserved! Performed entirely with balloons.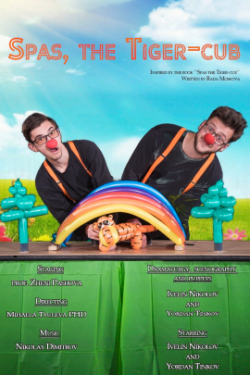 ---
Please see your festival booklet for bios and information about all of these amazing performers and their work!